The formalization of the collaboration with the beauty and treatment company Apivita, which is based on the beneficial elements of Greek nature, gave the company the possibility to implement comprehensive treatment protocols that bring the guest into contact with the inexhaustible resilience and pure composition of the unique Greek biodiversity.
WELCOME TO THE WORLD OF APIVITA…
A world, where people and nature come first.
A world, where experience and emotion rhyme with efficacy.
A world of convictions that we want to pollinate all over the planet.
THE BRAND
NATURAL BEAUTY CARE
BORN OF BEES IN GREEK NATURE, RAISED BY SCIENCE
Founded in Athens in 1979 by two pharmacists pioneers in environmental sustainability, Niki & Nikos Koutsianas, APIVITA (which means "life of the bee") offers effective natural beauty products for the face, body and hair. Apivita formulas harness the power of Greek nature with key ingredients derived from value-added bee products and medicinal plants, enhanced by cutting edge green cosmetology.
OUR 4 PILLARS OF INNOVATION
WE CAPTURE the proven protecting, healing and rejuvenating properties of pure bee products.
WE EXPRESS the infinite resilience of the unique Greek biodiversity.
WE MASTER the art of traceable, sustainable and clean active formulations.
WE OFFER effective natural beauty products to the world.
OUR LOGO
The name APIVITA is derived from the Latin words APIS (Bee) and VITA (Life) and means "life of the bee". Our logo is inspired by the "Bees of Malia", a unique piece of Minoan jewelry from the Middle Bronze Age (c. 1700 BC) which depicts two bees storing a drop of honey in their honeycomb, encircled by Apollo's lyre. This showcases a symbol of fertility, harmony, and sustainability.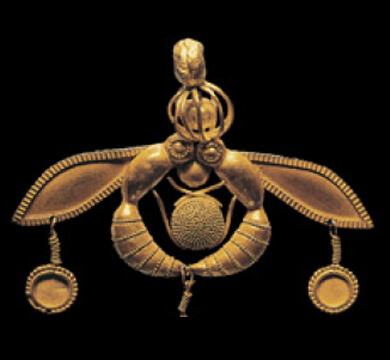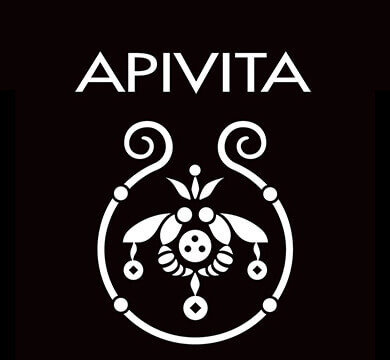 OUR INSPIRATIONS
01 Bees
THE ALCHEMISTS OF NATURE
Bee colonies are sometimes known as super-organisms and function as a highly organized, self-sufficient community that is guided by the greater common good. Bees have been around for more than 100 million years, offering their pollinating services to ecosystems, safeguarding natural diversity and contributing to the sustainability of vegetation and world food supply. They also provide us with precious beekeeping products which offer the world's most effective protecting, healing and rejuvenating properties. They guard the health, beauty and wellbeing of our environment as well as our society.
02 Greek Nature
A RICH AND PRESERVED HAVEN
With its exceptional biodiversity, including over 6800 plants species and 1400 endemics, the Greek landscape is an invaluable source of natural treasures. The flora is endowed with infinite resilient properties. In order to survive in this southern climate, native species develop high concentrations of bioactive molecules to boost resistance and regeneration, offering an endless reserve of high biological value active ingredients. At the same time, this perfectly preserved natural ecosystem offers the native bee population a pristine haven in which to generate its precious active ingredients.
OUR
MISSION
POLLINATE BEAUTY
Inspired by the eternal synergy between bees and Greek nature, APIVITA places its passion and commitment to the environment at the heart of everything we do. Just like the beehive, our company is a living organism that never stops creating and distributing value:
value for the environment, value for society, and value for the economy.
This value is captured and embodied in our products, which are developed in a spirit of sustainability and responsibility in order to achieve beauty that respects nature and people: beauty of the mind, beauty of the soul, and beauty of the heart. We invite you to spread this beauty all over the world.
Discover here all the Apivita Products available for sale in Evridiki Spa by Apivita premises in Kos, Rhodes, Crete, Corinth & Eretria.